Carnage is extremely strong, with a list of special abilities that turn him into a formidable villain.
When it comes to Spider-man's enemies, Carnage is one of the most redoubtable opponents. He was born when Eddie Brock was in the same cell with Cletus Kasady – the serial killer and main owner of Carnage. When Venom arrived to rescue Eddie, he left one of his "children" in the prison – another symbiote that immediately merged with Kasady to become Carnage.
Carnage quickly became one of the craziest enemies Spider-Man had ever encountered. The first time he faced Carnage, Spider-Man needed Venom's help to defeat him. Carnage is extremely strong, with a list of special abilities that turn him into a formidable villain.
10. Technology control
The capability Carnage rarely uses in the movie is technology control. It's not that this capability takes him too much energy, just because he's too busy to chop people with blades from the Symbiote. It is shown that Carnage can manipulate armor with dismembered parts, connecting them with a Symbiote.
He only uses the power once when fighting with the Iron Rangers. Technoly control is not Kasady's the most special capability, but it's obviously useful at the right time.
9. Spider Strength
Carnage is the "descendant" of the Venom, so he has some capabilities similar to Venom and Spider-man. Venom's symbiote had once merged with Peter Parker that it copied his abilities. As a result, Carnage inherited the same powers that Peter had.
It means that whoever has a symbiosis with Carnage will have super strength, agility and durability along with the ability to stick to the wall. Thanks to this ability, Carnage stood on a par with all those possessing the same powers as Peter does.
8. Symbiote enhancement
As an "Offspring" of Venom and Spider-man, Carnage possesses speically enhanced capabilities, partly due to being born on Earth. It indicates that the Carnage's power is much more frightening than Venom's.
Carnage is more stronger, more durable and transforms more diversely than Venom. Thus, it is truly difficult for Venom and Spider-man to find out him due to this power. Those simple capabilities make Spider-Nom defeat Carnage much harder.
7. Spider Silk
Although Carnage steals Peter's ability, he can't make spider silk. He can not swing from sticky webs like Spider-man. So, he replaced spider silk by self-designed "tendons" from symbiote. It looks like a long arm help him stick to wall or other surfaces and move faster.
Theorically, these "tendons" aren't similar to spider silk of Spider-man. The spider silk of Spider-man is strongly sticky, but Carnage's ones are more powerful, like his self-weapon attacking others.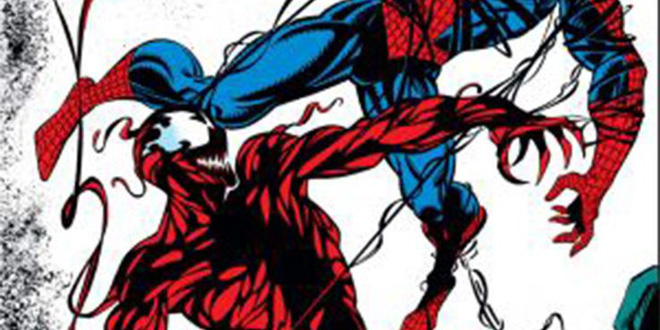 6. Transformation
While Carnage's large body size is a blessing in combat, there come moments when stealth is needed, and the size ends up being a disadvantage. Luckily, this power eliminates that problem. Carnage completely controls over his appearance including size, shape, and color. He can transform himself to look like normal clothing to avoid being spotted – despite the fact that it is not Kasady'style, a serial killer.
Moreover, this power allows him to become a more terrifying version. The colors Kasady chose are red and black with a few features that frighten all of his victims.
5. Weapon formation
Another amazing Carnage power is his ability to create weapons out of his body and launch them at enemies. The types of weapons range from knives to spears.
For far-distance attacks, "bullet" is made from symbiote so it can only survive for 30 seconds after detaching from the host. Along this power with self-designed " tendons" become an advantage for Carnage in combat.
4. Body Regeneration
Carnage also possesses the regeneration ability and wound healing. In the form of Kasady, the symbiote can help him heal from any injury – from broken arms to broken necks, against all diseases. Although this ability was not useful to Kasady when he was torn in half by the Sentry, he still gained a pair of "fake" legs.
This symbiote also shows extraordinary resilience. It had penetrated deep into Kasady's bloodstream, using it to heal himself. Therefore, even if Carnage was attacked by fire – his weakness – he could still recover normally.
3. Thought Transfer – Mind Bomb
Although Kasady's style shows cold blood and destruction, he sometimes has some very "small" tricks. Using his tendons, Carnage would connect with others and plant his thoughts and views into their brains – this is perhaps the red demon's most cunning ability. Besides helping him commit crimes, the ability helps Carnage in thwarting any attempts by humans to puppeteer him.
2. Carnage Sense
One of Spider-Man's special capabilities is Spider-Sense – the sixth sense to detect lurking dangers – but when meeting Venom and Carnage, this sense is disabled. Worse than that, Carnage also has a similar sense, called Carnage Sense.
This means that Carnage can "see" from all sides because every pore of his body has a sense of sight. It warns Kasady of any attack, making others nearly impossible to reach him.
1. Kasady's mind
Of course, Carnage's most dangerous ability is still the brain of his host – Kasady. He doesn't have the morals of ordinary people, always finds ways to cause chaos. This partly affects the symbiote's attitude and special abilities.
Not only that, but Kasady is also a garrulous guy inviting other villains to join forces for his plans. Although many people have been combined with different Symbiotes such as Venom, Spider-Man, Toxin, Knull, … Carnage is still as dangerous and scary as ever.