For DC Comics enthusiasts, the name Harley Quinn is already too familiar, right? This is a popular female villain and the love for the famous Joker. Cartoontee will delve into who Harley Quinn is so you can better understand this character!
Who is Harley Quinn?
She is DC Comics' fictional super-criminal. She is known as a character appearing in the Batman animated series The Animated Series in September 1992 and in the comic The Batman Adventures #12 (September 1993). The character was inspired by the role of actress Arleen Sorkin.
Detailed Biography of Harley Quinn
– Real name: Doctor Harleen Quinzel
– Work place: Arkham Asylum
– Appearances: Batman The Animated Series Animated Series
Harleen Quinzel is not a good student in the world, thanks to "meeting privately" with the lecturer, she graduated with honors. From the very beginning of her career at Arleen Sorkin, she asked to work with psychopathic supercriminals. At this time, her superiors objected to this, but she ignored it.
Meeting between Harleen Quinzel and Joker
Harleen Quinzel was walking past the Joker's cell when she accidentally met her idol. Joker very quickly seizes this opportunity, sneaks out of prison and does not forget to leave a letter in her office.
During her treatment, she overhears the Joker telling a story about her unhappy childhood. Although she didn't know if it was true or not, she still relented. With the help of Harleen Quinzel, the Joker is able to escape from Arkham five times seven times to manipulate the monster.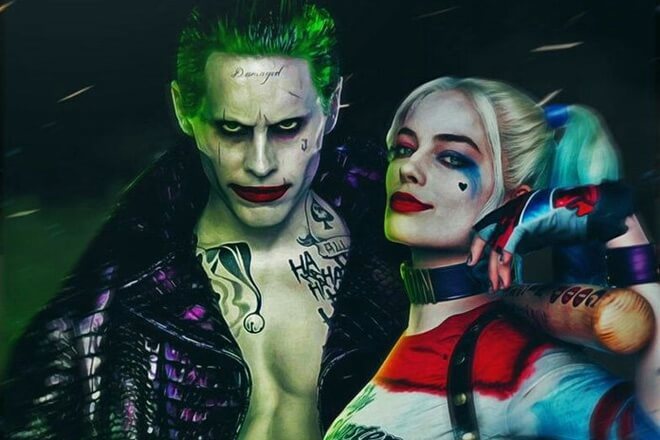 One day, the Joker was beaten by Batman and brought to Arkham. At this point, Harleen Quinzel hugs the Joker and looks at Batman with hateful eyes. After the Joker was brought back to his cell, Harleen Quinzel went to a costume shop, beat the boss, and took a female clown costume back. She sneaks into Arkham knocking down the security guard to bring the Joker out. From here, Joker has a great assistant, Harley Quinn. And more people know who Harley Quinn is.
Despite being treated badly by the Joker, she has always loved the Joker blindly. Although she is a villain, the audience feels that she is a pitiful person.
Harley Quinn's love with Joker
Harley Quinn often refers to Joker as Mr.J or Puddin and Batman as B-Man. After being trusted by Joker, Harley Quinn is quite happy to be with the person she loves. After a while, she realizes the problem is that the Joker is too focused on Batman and ignores her. This made her angry and decided to destroy the old bat that always pointed her nose at her love story.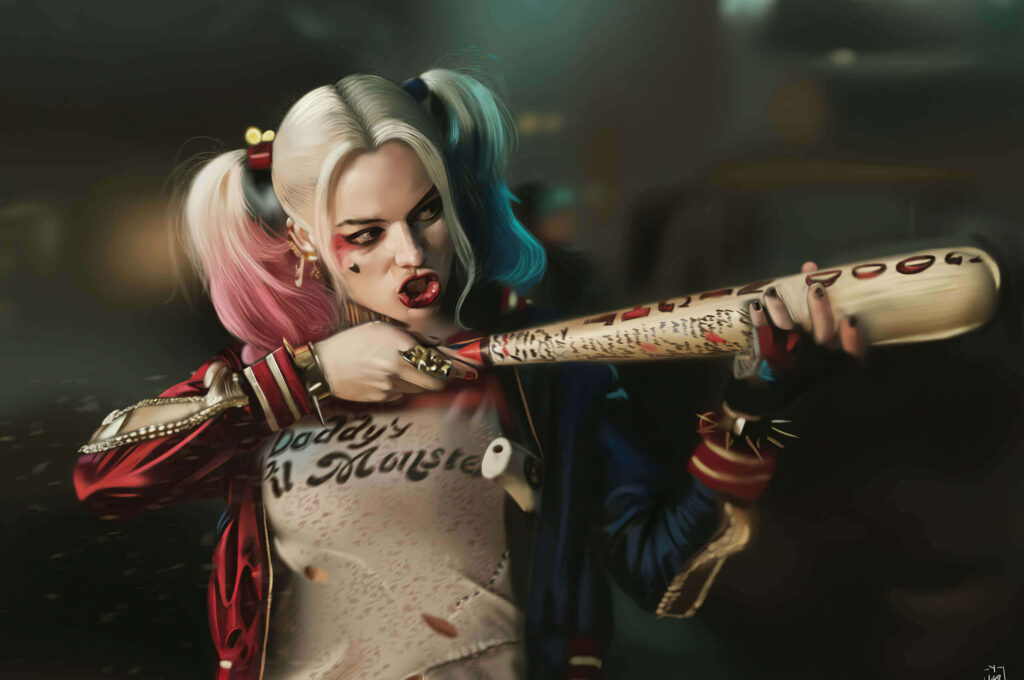 Harley Quinn writes a letter to Batman, saying that she was forced by the Joker to do what he said. This made Batman trust and quickly fell into the trap. She hangs Batman upside down on the Piranha aquarium, before killing Batman, she calls the Joker about her feat. This makes Joker angry and rushes to rescue Batman. Saying that only I have the right to kill Batman.
Joker knocked Harley Quinn out of the window. Taking advantage of the loophole, Batman captured the Joker and brought him into Arkham. She is taken home for treatment and she decides not to care about Joker anymore. But when she received a letter of comfort from the Joker sent to her, "boom" she relented and love quickly filled up again.
Harley Quinn has a best friend, Poison Ivy. There are many versions of this close friendship. But the most common is when Joker accidentally realizes the love hidden deep inside his heart for Harley Quinn. He deeply hates her and decides to tie her to a rocket and shoot her into the sky.
Harley Quinn lost consciousness upon landing at Robinson Park and was found and rescued by Poison Ivy. Poison recognized Harley Quinn as a doctor at Arkham and decided to kill her. But her didn't care and put on a sad face that piqued Poison's curiosity. After listening to her talk about Joker, Poison Ivy received sympathy and the two are officially close friends.
At this time, Poison Ivy injected Harley Quinn with a drug that made her immune to all poisons and became stronger. She, Poison Ivy, and Batman join forces to take down the Joker, and of course, he's easily caught. When she was about to kill the Joker, she relented with his words and decided to forgive.
At this point Poison Ivy was quite angry with Harley Quinn but also decided to forgive. In addition to her body being immune to poison, Harley Quinn has the toughness of gymnastics, the ability to use good weapons, high fighting skills and the madness of the Joker.
She joined Poison Ivy and Catwoman to form the crime girl group Gotham City Sirens. Harley Quinn also joined other criminal organizations such as Secret Six and Suicide Squad.
The best quotes of Harley Quinn
"I will kill you! For all you've done to me. Those days you made me feel so small and useless. Days that I will never forget. For the things that I will never be able to forgive. All those memories…"
"After all, after all these years, you and I have had moments together. You think I don't know what you think of me? You think I'm a doll, nothing more, nothing less. A doll that you can do whatever you want. No, you are wrong, very wrong. Now it's just a ghost of the past. I'm dangerous, and I'll show you how dark I am."
"I just want to say that, without Batman, there would be no Joker, and I wouldn't get to see my Puddin'. Thank you, Batman."
"You think I'm some stupid blond haired slut, don't you! Ha, by the way, because my hair isn't even blonde."
"You will be embarrassed if blood gets on your new outfit. What do you think, Bat brain, like it? What am I kidding, of course you like it, who doesn't like it?"
"We are the bad guys, this is what we do."
Through this article, you probably already know who is Harley Quinn is, right? This is a beautiful but sad love story that makes many people feel sorry for Harley Quinn.
If you love Harley Quinn, buy her 3D shirt. Shop here.